Posing with sedated tigers and Instagramming elephant bath time at a "sanctuary"? Forget what you know about wildlife tourism.
Be it travel firms partnering with green charities, Kalahari conservation trips or citizen science projects in Britain, doing your bit for the animals has come a long way. Here are some of the best…
Animals with Airbnb
Stand-up paddle tours along Florida's canals with a corgi on board. Afternoon tea with strokable Scottish sheep. Watching a family of Arctic foxes in Iceland. All are possible with Airbnb's just-debuted animal Experiences. If some of them sound callous, don't worry, the collection is wedded to an animal welfare policy vetted by charity World Animal Protection.
Adventures are split into three categories: "observe" trips are safari-like and include things like an hour spying wild parrots in Brooklyn; the "care" packages could have you walking close to South African penguins; while "play" lets participants cuddle goats or groom miniature ponies.
Provided by Independent Digital News & Media Limited Penguin watching in South Africa
Nature-loving group tours
Small-group tour operator G Adventures released an updated animal welfare policy in October, developed with the Jane Goodall Institute, World Cetacean Alliance and World Animal Protection. It involves having no contact with nor feeding non-domesticated animals; not visiting shows involving wildlife; and not eating endangered species.
While all tours will adhere to the policy, its Jane Goodall Collection is particularly concerned with wildlife, with 20 trips endorsed by the field-leading anthropologist. Those include a 15-night tour of Costa Rica's volcanoes, rainforests and beaches, where you might see monkeys, toucans, sloths, dolphins and hatching turtles.
Ethical elephant trips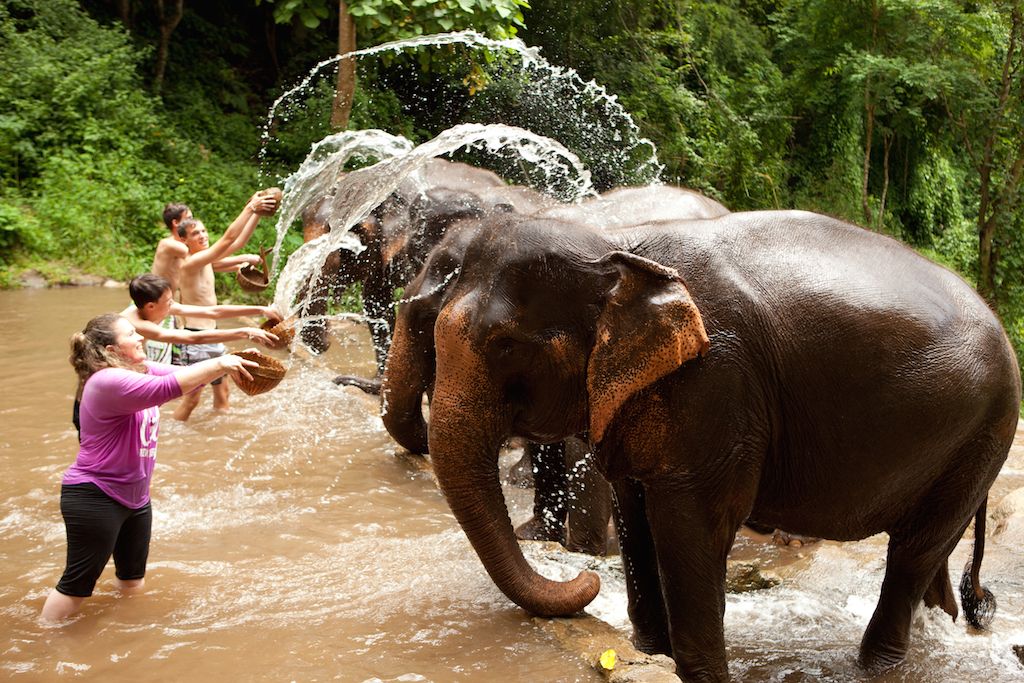 In September, the Association of British Travel Agents launched guidelines that deemed elephant rides unacceptable. The practice prompted Intrepid Travel to remove all rides from its small-group tours as long ago as 2014. As well as offering safaris, Intrepid takes travellers to sanctuaries where elephant welfare is prioritised. ChangChill, which can be visited from next year as part of its Thailand tour, was formerly a place for elephant rides, but now visitors observe free-roaming denizens from a safe distance while learning about them.
Whales in the wild
© Provided by Independent Digital News & Media Limited Born free: head to the Azores for dolphin and whale watching (Sunvil)
Captive cetaceans have also been in focus this autumn. TripAdvisor, having consulted with animal rights organisation Peta, following in the footsteps of Virgin and British Airways holidays by announcing that it will soon cease selling tickets to SeaWorld. The theme park chain was criticised after 2013 documentary Blackfish chronicled the suffering of an orca at SeaWorld Orlando. Though SeaWorld insists it is conservation-minded, properly conducted whale or dolphin-watching in the wild guarantees a clean conscience. Try the Azores in the Atlantic, where 28 of the planet's 87 cetaceans have been sighted.­
Join the Puffarazzi
How do you feel about puffins? If the answer is anything from mildly interested to utterly obsessed, you may be interested in a chance to help the seabirds. With numbers plummeting to the point of an extinction threat amid concerns over a lack of food, the RSPB's Project Puffin is building a team of Puffarazzi — basically anyone who sends the society snaps of the ultra-cute species (from any year) with fish in their bills or who visits a colony next June or July (feeding season) and takes a photo of them.
The UK's best spots include Lundy island, RSPB Dunnet Head in Scotland, and Pembrokeshire's Skomer. This campaign exemplifies the burgeoning trend of "citizen science" projects enabling amateurs to make valuable research contributions. Other options with a wildlife bent include sighting-log apps such as eBird or counting marine critters like lobsters and surveying sections of Belize's Barrier Reef during diving trips to the Central American country.
Conservation holidays
The most direct way to aid wildlife is, of course, to book a wildlife conservation trip, as many people seemingly are. Responsible Travel reports that bookings in this bracket have risen by 35 per cent in a year. The options are myriad, from installing camera traps and tracking bears in Transylvania to volunteering on a cheetah-focused carnivore project amid Namibia's red-dune Namib Desert.
Alternatively, travel with Naturetrek in the happy knowledge that your money will help animals — the wildlife tour specialist has now donated more than £800,000 to carefully chosen conservation schemes. One of those, Butterfly Conservation, recently reintroduced the beautiful Marsh Fritillary to England in May. Lepidoptera lovers are directed to Naturetrek's butterfly-themed tours in places such as Sweden, Sri Lanka and South Africa.