When it's cold outside, you might crave apple pie or a hot chocolate. But how about a bowl of steaming snake soup?
You may squirm at the idea, but it's been the winter dish of choice for many in southern China for centuries.
Popularized in the province of Guangdong, shredded snake soup is favored in the colder months for more than just its taste. People tuck into the delicacy because they believe it has healing powers.
"Big Snake" Mak says the reptile is good for his health. Photo: James Wendlinger
Why snake meat?
Snake has long been used in traditional Chinese medicine; it was first mentioned in a Chinese agriculture and medicinal plant book in 100AD.
In Chinese medicine, snake is considered to be a "warming" ingredient, heating your body from the inside.
Foods are believed to either have a warming (yang) or cooling (yin) effect on the body.
Many older Chinese people still swear by the dish's warming, health-giving qualities.
This has nothing to do with the actual temperature of the food, but the way your body responds. (For example, wine is seen as "warming" for the body, even though the temperature of the liquid is cool.) So, in the case of snake soup, the warming (yang) snake helps to counteract the effects of the winter cold (yin) in the body.
People also eat snake soup because they believe it eases the symptoms of arthritis, improves blood circulation and ups the male sex drive.
Eating the reptile's raw gall bladder is also said to improve sex drive, along with curing chesty coughs.
Hong Kong diners pictured in 1972 enjoying a meal of snake soup. Photo: Chan Kiu
Depending on who you speak to, the list of perceived benefits doesn't end here.
Veteran snake handler Mak Dai-kong, also known as "Big Snake" Mak, swears by the medicinal properties of snake soup.
For the last 70 years, he has been working at Hong Kong's oldest snake meat supplier and restaurant Ser Wong Lam, which has been serving the city for 120 years.
"When I was young I was quite weak, so I started eating snake soup and now I am 88 years old. I don't get sick easily," he says.
"Snake soup is very nutritious and good for your health. After two years [of eating snake soup] I went from 80 pounds to 140 pounds."
Snake meat is simmered in a broth made from bones, meat and herbs. Photo: Edmond So
What does snake soup taste like?
The meat found in shredded snake soup looks a lot like chicken, and it tastes a bit like it too – only a little tougher.
Though this might also have something to do with what goes into the soup.
Recipes vary, and many chefs keep their ingredients close to their chest. In most cases the soup, which is simmered for hours, includes two types of snake meat, pork bones, mushrooms, ginger, chrysanthemum leaves and other Chinese herbs that help make the broth slightly sweet and mildly spicy.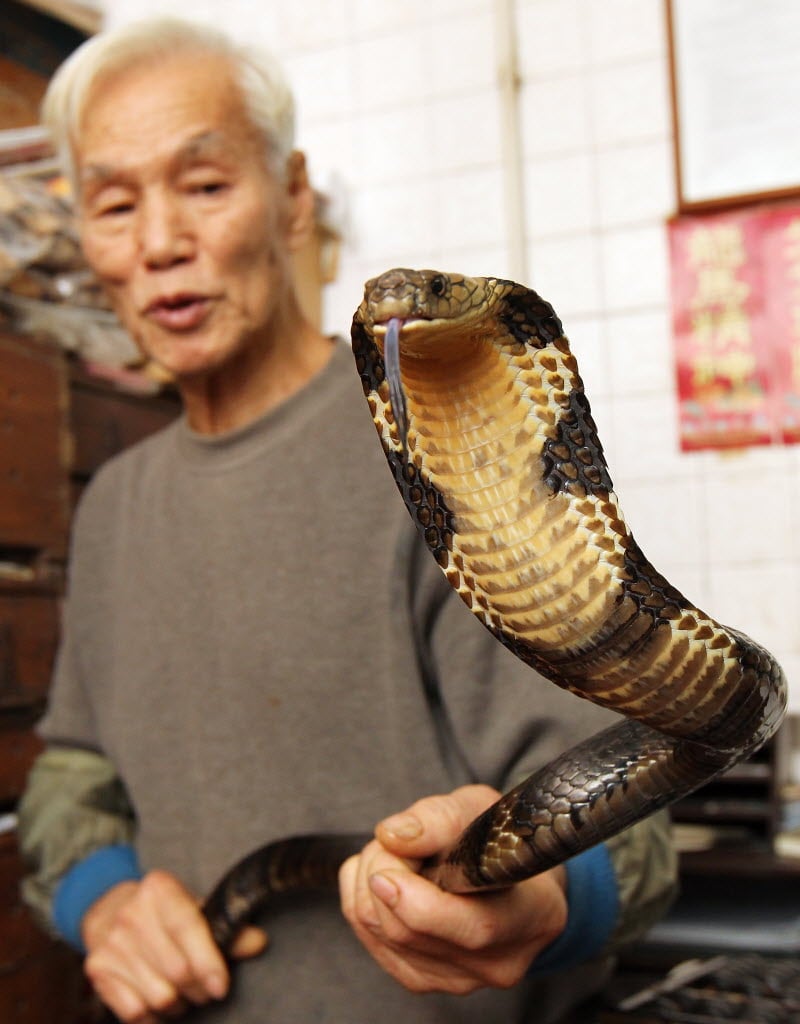 Cobras, pythons and water snakes are among the species used to make snake soup.
Popular snake species include the water snake or python, but the venemous Chinese cobra and banded krait are also sometimes used.
To give the dish an added depth of flavor, another type of meat is often paired with the snake. In many cases this meat is chicken, which explains why so many people say snake soup tastes like chicken.
While many foreigners are often pleasantly surprised by the subtle sweetness of the soup, its gloopy consistency can seem a little unusual to a newbie's palate.
The Ser Wong Fun restaurant is one of many to include the phrase 'ser wong' or 'snake king' in its name. Photo: Jonathan Wong
Is snake soup still widely eaten?
Snake soup had its heyday in 1960s Hong Kong, with scores of shops selling hundreds of bowls a day in winter.
In the decades since, the number of places selling the delicacy has dwindled in the face of high rents and a lack of young people wanting to get into the industry.
In Hong Kong, there are still a handful of specialist stores that serve snake, many with a vat of soup taking pride of place at the front of their stores. Their names often include the phrase ser wong, which translates to "snake king."
A man kills a snake in the streets of Hong Kong in the 1970s. Photo: Sam Chan
Gigi Ng's family first opened a snake soup street stall in Hong Kong in the early 1940s, selling up to 500 bowls a day in winter.
Now located in the city's Central district, her restaurant Ser Wong Fun sells anywhere between 100 to 300 portions a day.
"We always say snake soup is favored when there is a cold north wind," she says.
Demand for snake soup is highest in winter. Photo: AFP
Her family has been in the snake industry for more than 130 years. In the late 1800s, her great-grandparents worked as Chinese medicine doctors in Guangdong province, putting "snake essence into different products like snake wine and snake powder."
Her grandpa then made a living from catching and selling snakes in China, a skill he passed onto his son before he moved to Hong Kong.
A sign warns of the danger from 'poisonous snakes.' Photo: Bobby Yip
Ng says that over the decades, ingredients used in the dish have moved with the times. She says civet, snake and chicken used to make "the perfect formula."
"[In the 1940s] the flavor was much stronger. There were a lot of bones used, and snake essence."
But now the taste is more delicate. "Snake soup is like history; it is like the Bible," she says proudly.
Gigi Ng prepares the dish at her family's business in Hong Kong's Central district. Photo: James Wendlinger
Ng's family buys their fresh snake meat from Ser Wong Lam, where "Big Snake" Mak works. Inside the small shop in Hong Kong's gentrifying Sheung Wan district, dozens of stacked wooden boxes line the walls. Red Chinese characters mark each box warning newcomers of the "poisonous snakes" that lurk in the dark.
Aging workers potter about the store, while a large photo of the original founder hangs at the head of the shop, watching over his legacy.
The industry is facing an uncertain future, but for there is a still a demand for snake soup in Hong Kong. Photo: David Wong
With fewer people looking to work in the industry, Mak worries about the future of snake soup specialist restaurants. But he says the staff at Ser Wong Lam "are doing their best" to ensure they can keep serving the city.
"The boss is continuing the business for some old colleagues, and the elderly who have been eating snake soup here for a couple of decades," he says.