Every four minutes an Indian commits suicide, according to latest data revealed by the National Crime Records Bureau (NCRB) for the year 2016. That means, on an average, 15 Indians end their life every hour. A total of 131,008 people ended their life that year — which was a marginal decline of 2% from the 133,623 suicidal deaths recorded in 2015. Overall, more men were likely to commit suicide (68% of all suicides were male) than women.
While the total number of suicides remains high, the suicide rate (or suicides per lakh population), which peaked in 2010, has been falling since then, with the only exception in 2015. Data on suicide rate since 1964 shows it hit 11.4 in 2010, fell to 10.58 in 2014, rose to 10.6 in 2015, and dropped to 10.3 in 2016. Between 1964 and 1987, there were only two years (1969 and 1970) when a rate of over 8 suicides per lakh was reported. From 1988 when rate was 8.07, it rose to 11.2 in 1999, declined again, and then rose to its 2010 peak.
UNHAPPY FAMILY LIFE TOP TRIGGER
So what drives more than a lakh Indians to take the drastic step of snuffing out their lives every year? In 2016, there was a jump in suicides because of marital trouble, illness, property dispute, family problems and love affairs. But there were fewer suicides because of failure in exams, bankruptcy, unemployment and poverty. According to NCRB data, family problems are the single biggest cause of suicides in India, accounting for close to a third of all such deaths, followed by illness — which could be either terminal or prolonged — for both male and female. In Uttar Pradesh, close to half of all suicides were due to family problems, the highest proportion in any state. However, the most populous state reported comparatively lower percentage share of suicide deaths, at 2.7% of the total suicides in the country. A third of all suicides in Andhra Pradesh were triggered by illness and the state topped the list for proportion of suicides in that
Otherwise, suicide triggers differ across genders. For women, marriage, love affairs and failure in exam are the next three biggest reasons; for men, they are drug and alcohol abuse, bankruptcy and marital trouble. Interestingly, while in most cases, men who commit suicide outnumber women, in marriage related causes, it's the women who are most prone to taking the extreme step of ending their life — a pointer perhaps to social or 3/6 family pressures on them. Housewives accounted for 51.3% of all female victims in 2016.
SIKKIM'S SUICIDE RATE WAY ABOVE NATIONAL AVERAGE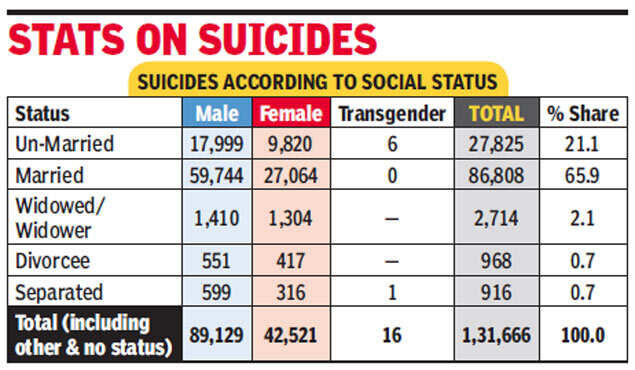 A comparison among states shows that Sikkim has the highest suicide rate at 40.5 in 2016, with alcohol & drug abuse, unemployment, mental health illnesses and changing family structures among factors contributing to the high rate, according to experts. The northeast state is followed by Puducherry (33.3), A & N Islands (26.4) (UTs not shown on map), Chhattisgarh (25.8) and Telangana (24.5). Bihar (0.4), Manipur (1.4), Nagaland (1.4), Uttarakhand (1.4) and UP (1.6) have the lowest suicide rate. The national average is 10.3.
MAHARASHTRA, TAMIL NADU LEAD IN NUMBERS
In terms of numbers, central, western and southern states saw the maximum suicides, with the top five states — Maharashtra, Tamil Nadu, West Bengal, Karnataka and Madhya Pradesh — constituting more than half of all Where, how and why do 15 Indians kill themselves every hour – 4/6 suicides in India at 51.1%. These states were also the ones that saw over 10,000 deaths each. Add Telangana and Kerala, ranked at sixth and seventh respectively, and the share of the top seven states goes up to 64%.
HANGING, POISON TOP WAYS TO KILL ONESELF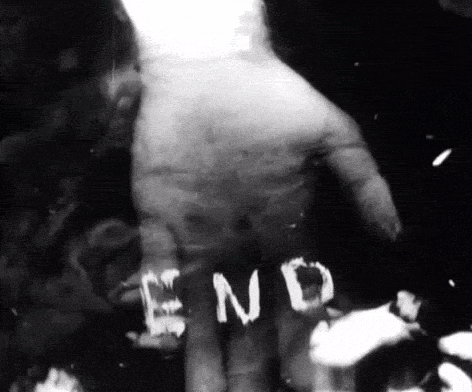 While Indians are finding newer ways to commit suicide — the share of suicide by other methods rose from 7.7% in 2015 to 9.5% in 2016 — tying a noose around one's neck is the most preferred method. More than 46% chose hanging as the means to end their lives, followed by consuming poison, with over one-fourth of all suicides committed by either consuming an insecticide or some poison. The number of males outnumbered females in all means of suicide except fire/self immolation. Where, how and why do 15 Indians kill themselves every hour –
FARM SECTOR SUICIDES IN 2016
According to NCRB data, the number of farm sector (farmers and farm workers) suicides in the country declined to 11,379 in 2016 from 12,360 in 2014 and 12,602 in 2015. 6,270 farmers committed suicide, down from 8,007 in 2015. Suicides by farm workers though increased to 5,109 from 4,595. Maharashtra topped in farmer suicides at 32.2%, followed by Karnataka (18.3%) and Madhya Pradesh (11.6%). Most of the farmers who committed suicide in the country were men, with women accounting for just 8.6% of farmer suicides. The report did not reveal reasons for the suicides.