Protests erupted across Iran on Friday after the government imposed petrol rationing and raised its fuel prices. (Photo: ANI)
HIGHLIGHTS
Protests erupted across Iran on Friday after government imposed petrol rationing and raised fuel prices
According to officials will free up money to help the poor.
The new fuel policy has seen prices rise by at least 50 per cent
At least 36 people have died since protests erupted across over the fuel price hike.
Al Arabiya citing sources reported that the Iranian security forces fired tear gas to disperse protesters in Martyrs' square in Tehran.
On Sunday, Iran's Supreme leader Ayatollah Ali Khamenei backed the government's decision to hike fuel prices despite ongoing protests in the country.
"I am not an expert in this field, but I had asserted before that I would back whatever decision the heads of the three branches [legislative, judiciary, administrative] make," Khamenei said, Anadolu Agency reported citing Iranian media.
Protests erupted across Iran on Friday after the government imposed petrol rationing and raised its fuel prices.
According to officials, the new fuel policy, which has seen prices rise by at least 50 per cent, will free up money to help the poor.
Khamenei also called on the government to take every step possible to alleviate people's economic concerns. "Authorities should use all their capacities to minimize people's concerns over this [gas rationing] plan," he said.
Iran has been hit hard by the reimposition of US sanctions last year, after US President Donald Trump backed out of the 2015 nuclear deal with Tehran.
Interior Minister Abdolreza Rahmani-Fazli, speaking during an interview with state television on Saturday, warned that law enforcement and security officials will have "no choice" but to step in and restore calm if "illegal" actions continue.
Mr Rahmani-Fazli criticised a "limited number" of people whom he accused of abusing the public mood to create "intimidation and terror"
What is the latest with protests?
At least one person was killed during protests in the central city of Sirjan on Friday, officials confirmed.
State news agency Irna said there were clashes with police when protesters attacked a fuel storage warehouse on Friday and tried to set fire to it.
Fresh protests were held Saturday in the cities of Doroud, Garmsar, Gorgan, Ilam, Karaj, Khoramabad, Mehdishahr, Qazvin, Qom, Sanandaj, Shahroud and Shiraz, Irna reported.
Footage posted on social media suggest other people may have been killed on Saturday.
The semi-official Isna news agency reported that security officials have threatened to legally pursue social media users who were sharing footage online.
A statement, accredited to the Security Emergency Centre (SEC) of Iran's Interior Ministry, accused some users "rumour-mongering" and "spreading lies" about the protests.
The report also claimed that footage was being recycled from incidents in previous years to undermine public confidence and disrupt national security.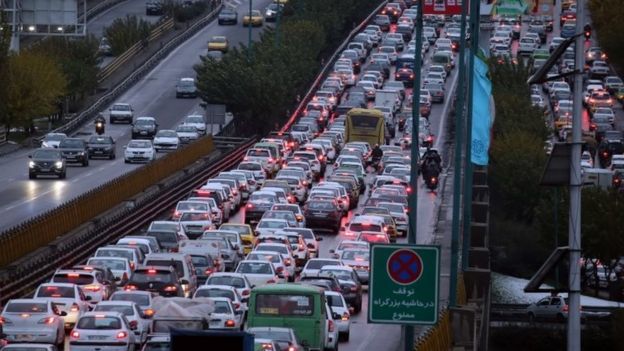 On both days there were reports of angry motorists blocking some roads by turning off car engines or abandoning vehicles in traffic.
Videos posted online purportedly showed motorists in the capital, Tehran, stopping traffic on the Imam Ali Highway and chanting for the police to support them.
Another clip shows what appeared to be a roadblock across the Tehran-Karaj motorway, hit by the season's first heavy snowfall. Other videos spreading online show clashes between security forces and protesters, and banks burning in several cities.
Some pictures appeared to show police stations aflame in the southern city of Shiraz.
Speaking on Iranian state TV, Prosecutor General Mohammad Jafar Montazeri blamed a "few disruptors" for the protests. He urged people to distance themselves from those who – in his words – want to show their opposition to the Islamic system.
He also accused the protesters of having "roots outside the country".
What are the new measures?
Under the new fuel measures, each motorist is allowed to buy 60 litres (13 gallons) of petrol a month at 15,000 rials ($0.13; £0.10) a litre. Each additional litre then costs 30,000 rials.
Previously, drivers were allowed up to 250 litres at 10,000 rials per litre, AP reports.
The revenues gained from removing subsidies on petrol will be used for cash payments to low-income households, the government says.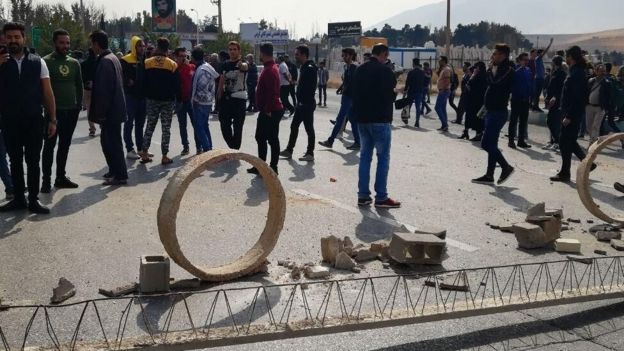 The head of the Iranian Planning and Budget Organisation, Mohammad Baqer Nobakht, said that from this month, 18 million families would get an extra cash allowance as a result of the price increase.
The new measure is expected to bring in 300tn rials per annum, he said on state television.
President Hassan Rouhani said on Saturday that 75% of Iranians were currently "under pressure" and the extra revenues from the petrol price hike would go to them and not the treasury.
How have US sanctions affected Iran?
Iran has some of the world's cheapest fuel prices due to heavy subsidies and the fall in value of its currency.
It is also one of the world's largest oil producers, with exports worth billions of dollars each year. But it has limited refining capacity and sanctions have made it difficult to obtain spare parts for oil plants.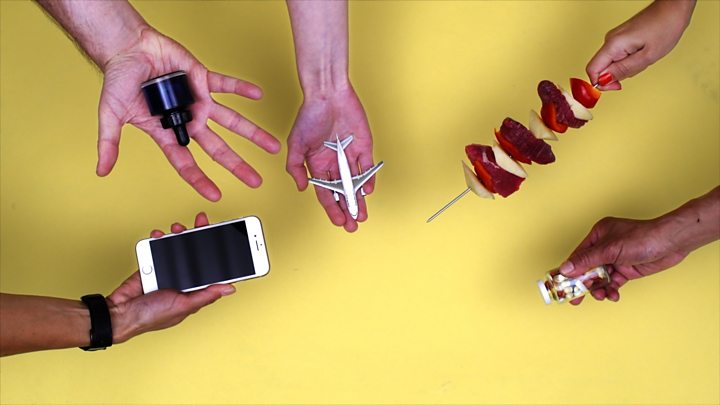 Sanctions were reimposed last year after US President Donald Trump abandoned the landmark nuclear deal between Iran and six world powers.
Under the accord, Iran agreed to limit its controversial nuclear activities and allow in international inspectors in return for sanctions relief.
Since the US left the deal, Iran has been gradually stepping up its nuclear activity in breach of the accord, though it has consistently denied wanting to develop nuclear weapons.
The sanctions have led to a sharp downturn in Iran's economy, pushing the value of its currency to record lows, quadrupling its annual inflation rate, driving away foreign investors and triggering protests.