Almost a week after the news of a veterinarian being gang-raped and murdered in Hyderabad shook the world, the accused have been shot dead near Shadnagar town. The four accused were shot dead when they allegedly snatched weapons from the police and tried to escape.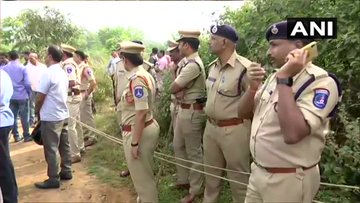 This incident took place on Friday (3 AM) at Chatanpally near Shadnagar, about 50 km from Hyderabad. Police have stated that the accused – Mohammed (26), Jollu Shiva (20), Jollu Naveen (20) and Chintakunta Chennakeshavulu (20), were gunned down at the same spot where the burnt body of the victim was discovered. 
People are lauding the officers who carried out the encounter while recreating the crime scene with the accused. Rose petals were showered on the cops at the spot where the encounter occured. 
All four accused in the rape-and-murder case of a 25-year-old woman veterinarian near here last month were killed in an exchange of fire with police on Friday morning, police said.
The incident took place around 6.30 am when the accused were taken to the site of the offence for reconstruction of the scene of the crime as part of the investigation, a senior police official said.
"They (accused) snatched weapons from police and fired on police and tried to escape… police fired ..
We thank everyone who stood by us. With this incident people should be scared to indulge in such crimes (against women)," she told reporters.
The gang rape-and-murder triggered a nation-wide outrage with the public and lawmakers demanding speedy punishment to the perpetrators.
The state government had ordered setting up of a special court (fast track) to expedite the trial.
Chain of events

A woman veterinary doctor is gang-raped and killed. The assailants burn her body on the outskirts of Shadnagar in Telangana's Ranga Reddy district.
Hyderabad police arrested four persons — Mohammad Ali alias Mohammad Arif, Jollu Shiva, Jollu Naveen Kumar and Chintakunta Chenna Keshavulu — in connection with the case.
The news of the brutal rape and murder left the entire nation outraged. Protests held across the nation demand .