Colored tights are coming back and we're showing you how to wear them the modern way.NOVEMBER 10, 2019 by lisa – ocad universityThis post may contain affiliate links, which means we may receive a commission if you purchase through our links. Please read our full disclosure here.
If you paid attention to trends circa the mid-to-late 2000s, you probably remember that the fashion world went through a little obsession with colorful everything, from basic v-neck tees to skinny jeans.
However, one colorful trend that you may have forgotten about is colored tights.
Indeed, from pastels to neons, colorful tights were a huge trend back in the day. And whoever was daring enough to try this bold look was sure to be the center of attention!
After all, most of us probably weren't used to seeing girls and women past elementary-school age wearing colorful tights. (Don't forget, back then, the idea that you don't have to be a certain age to wear certain things was still just starting to gain traction.)
So, I was pretty surprised — not to mention happy — when I recently discovered that colorful tights are making a comeback.
And, since it's been a while since we've focused on colorful tights in a major way here at CF, I've decided to put together three fun looks that revolve around the trend. These outfits are sure to convince you to give colorful tights a go, regardless of whether you wore them when they were "in" 10-plus years ago.
Ready to get inspired? Just keep scrolling to learn how to wear colored tights right now!
How to Wear Colored Tights: Outfit #1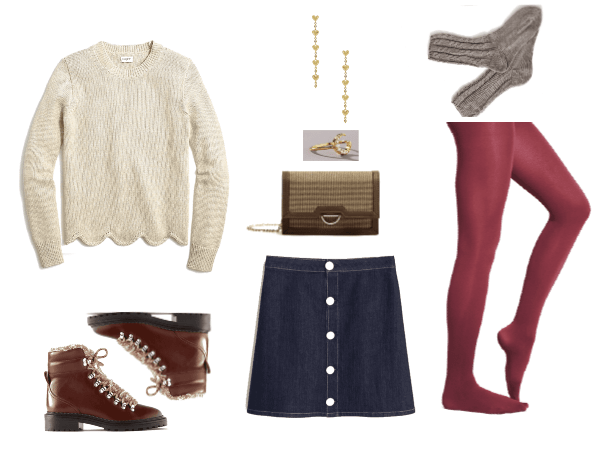 This retro-inspired colored tights outfit is perfect for anyone who is curious about how to wear colored tights, and is a little apprehensive about going for anything too bright or bold.
To get the look, start off by putting on a cozy sweater with a fun scalloped-hem detail. After that, add a denim mini with pretty bejeweled buttons.
These reddish-plum-colored tights are the perfect, almost-neutral color to make this otherwise-simple outfit stand out just the right amount. Furthermore, if you want to make the look even more casual (or if it's just really cold outside!), layer on a pair of gray cable-knit socks.
Speaking of warm, you really can't go wrong with these super-trendy hiking boots, which, with their chic faux-fur trim, lend an adventurous vibe to any look.
Keep things simple jewelry-wise by donning a dainty pair of drop heart earrings and a pavé crescent-moon ring.
Finally, grab a cool printed mini cross-body bag to complete the ensemble.
How to Wear Colored Tights: Outfit #2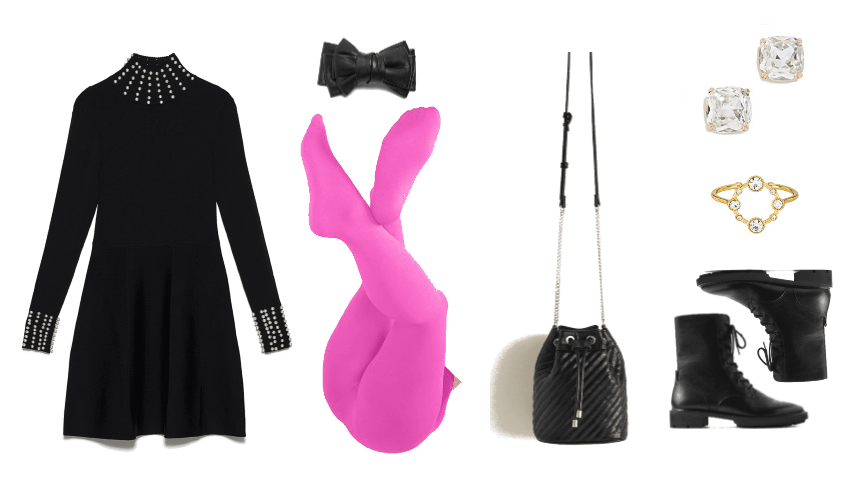 For the second look, I decided to go for something edgier and bolder that can be worn either during the day or at night.
Note that, due to the tights' bright fuchsia hue, I think it's best to keep the rest of the look neutral, which is a good rule of thumb for wearing colorful tights in general. However, if you're feeling adventurous, you could definitely try adding in more color as well! Really, as long as the look is cohesive, you're good!
To copy this outfit for yourself, throw on a black, pearl-embellished knit dress.
Then, add the aforementioned fuchsia tights for a daring pop of color. (This particular pair of tights is from a retailer called We Love Colors. Personally, I don't have any experience buying or wearing anything from them. So, I can't speak for things like quality, comfort, etc. But, I did discover that they have a huge selection of reasonably priced tights in all sorts of colors. They also carry both straight and plus sizes. Therefore, I'd definitely recommend checking them out!)
A leather bow hair clip adds a tough and feminine touch. Furthermore, a pair of small faux-diamond studs and a quirky, sparkly ring add just the right amount of visual interest.
Versatile black combat boots are the perfect edgy footwear choice to prevent this outfit from looking too prim.
Lastly, a chain strap offers anelegant upgrade to a timeless bucket bag silhouette and helps you to finish off the look in style.
How to Wear Colorful Tights: Outfit #3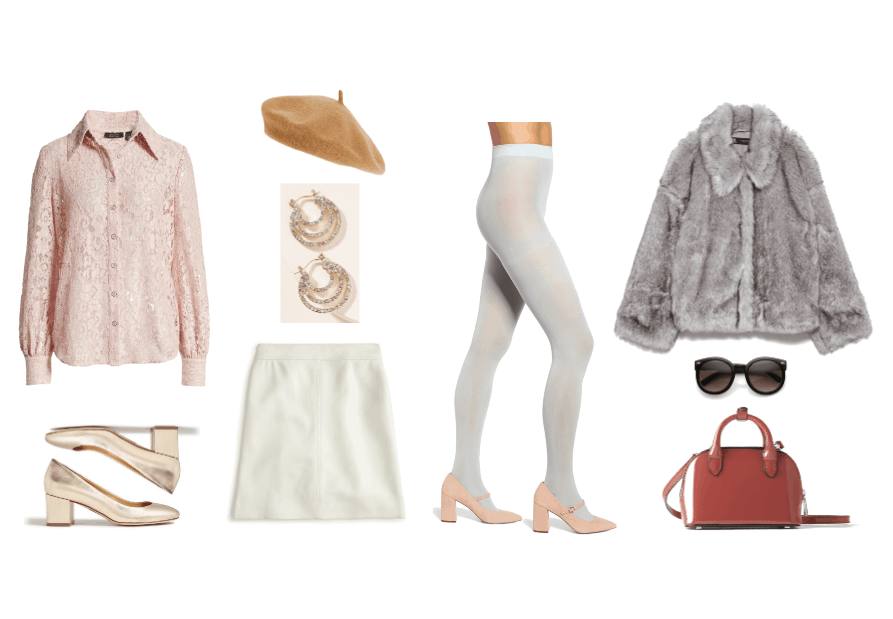 For Outfit #3, I decided to take some inspiration from the queen of colorful tights herself (not to mention one of my style idols!), Blair Eadie of Atlantic-Pacific. In fact, this look contains two pieces — the blouse and the tights — from Blair's adorable Halogen x Atlantic-Pacific collaboration!
Although this soft and ladylike ensemble might look hard to put together, it's actually quite simple to do. Blair can teach you how to wear colored tights — just get inspired by any of her outfits, as we did here.
First, tuck a cute pale pink lace blouse into a white mini skirt.
Next, don a pair of icy-blue tights — a necessity for anyone who's after a soft and girly aesthetic.
Accessorize with a preppy beret, as well as these fun and super-sparkly hoop earrings.
A luxurious faux-fur jacket keeps you warm and allows you to show off your sense of style. (Quite the rare feat, if you ask me!)
Furthermore, the dusty rose shade of this faux-patent mini bag provides some subtle contrast to the rest of the ensemble.
These muted gold pumps add some height, while their sturdy block heel ensures that you won't topple over in them the moment you put them on.
To complete the outfit, put on a pair of classy oversized sunglasses that Blair would definitely love!
What do you think of the colorful tights trend?
Did you wear colorful tights when they first became trendy in the mid-to-late 2000s? Do you plan to wear them (again) now? When it comes to colorful tights, do you prefer darker/more muted colors, neons, or pastels?